Growing Together Project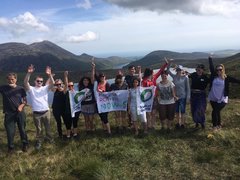 Growing Together is a cross European project which aims to provides a voice for young people, particularly those from rural areas, to engage with crucial debates on the future of food production, and the wider debates on the future of Europe.
The aim of the project is to support young activists and farmers to build skills and take action on issues relating to food and agriculture.
The project offers trainings and skill-building opportunities and provides supports to young people who wish to plan, organisie and facilitates events, workshops, film screenings, information stalls, actions, etc.
If you are between 18 and 30 years old and you are interested in getting involved in this project or attending any of the trainings you can join here at this link.
Issued in the blog on October 17, 2020 at 21:07:00.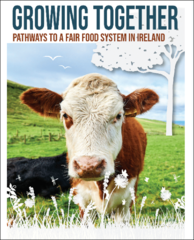 The Growing Together project winds down for Friends of the Earth this month, but the group that formed through this project will continue on to advocate for food sovereignty and sustainable solutions to our broken food system through creative and fun activities.
As you can imagine, the end of summer and harvest has been a busy time for the Growing Together agri-activists with seed saving workshops, farm visits and food sovereignty online theatre performances. They have also been busy researching and interviewing farmers around the country and have curated the latest research to establish a path to a more sustainable food system for Ireland.
Issued in the blog on September 30, 2020 at 16:17:00.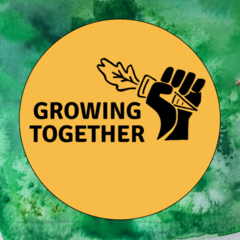 In this short video we take a look back at the Growing Together project. Thanks to all who were part of it! 

Issued in the blog on September 30, 2020 at 12:21:00.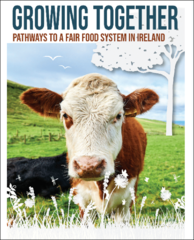 There are sustainable and unsustainable ways to produce food. Likewise, there are just and unjust food systems. Today, there are huge inequalities and power imbalances in the food system, for example between large agri-businesses and small independent food producers.
Our Growing Together agri-activists have been busy researching and interviewing farmers around the country and have curated the latest research to establish a path to a more sustainable food system for Ireland.

Their new booklet, "Growing Together: Pathways to a Fair Food System in Ireland" explores the environmental and social inequities of our food system, shines a light on the impact of COVID-19 and outlines the potential that the concept of food sovereignty has to make our food system more ecologically and socially just.
Issued in the blog on September 29, 2020 at 12:58:00.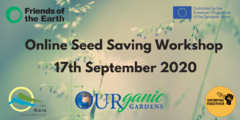 An online workshop for community gardeners, home growers, urban gardeners and lockdown gardeners alike. Joanne Butler of Ourganic Gardens has been teaching people to grow their own food since 2013. Joanne joined us in welcoming Wayne Frankham, Ireland's Regional Coordinator of The Gaia Foundation's Seed Sovereignty Programme, to discuss and demonstrate the basic essentials for anyone to successfully save and reproduce the seeds of our common and heritage vegetables. Wayne also provided simple tips for creating a community seed bank. If you missed it you can watch it back at this link or at the video below.
Issued in the blog on August 26, 2020 at 20:15:00.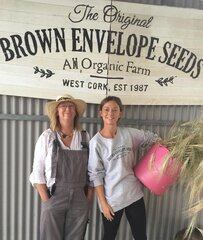 Harvest season is upon us - it's time to start enjoying the fruits of our labour! It's also a good time to think about saving seed and showing gratitude to the farmers and producers who have been working hard over the summer months to feed us. With this in mind, we are very excited to announce a month of nationwide activities to promote sustainable food production and celebrate agriculture and farming!
We have a suite of workshops and talks coming up over the next month and we hope to see you at some of them! All workshops are free to attend. Our events will be in strict adherence with government guidelines on COVID-19 – please see our COVID-19 event precautions.
Workshops & Talks 
Issued in the blog on July 30, 2020 at 19:05:00.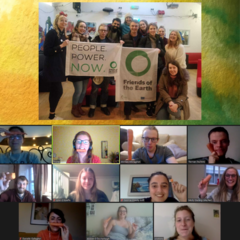 New social media presence - follow us today
With summer in full swing, there are a lot of things to be excited about. And we, in the Growing Together agri-activist group, have even more for you. We're excited to say that we're launching our own social media presence. You can now find us on Facebook, Instagram and Twitter. And, as if that wasn't enough, we're also offering you the chance to contribute to our latest project and win prizes for doing so!
Issued in the blog on June 18, 2020 at 09:03:00.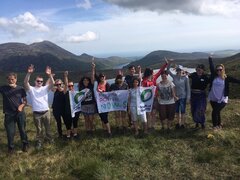 The Growing Together Activists are busy planning their next actions - watch this space for the following events, publications and activities!
July - Growing Together will be hosting a weekly social media take over showcasing the inspiring work of regenerative farmers, urban growers and other food activists around the country! If you are a farmer, grower or activist and you would like to be featured get in touch with Triona by emailing info@foe.ie.
August - Some of our Growing Together activists have been researching food sovereignty in the Irish context over the past few months. We will be releasing their much anticipated 'Booklet on Food Sovereignty in Ireland' in August with an online webinar. The booklet will be available for distribution online and in print.
Issued in the blog on June 17, 2020 at 23:26:00.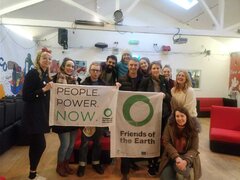 COVID-19 has brought our global food system into sharp focus. There is a thirst for knowledge and an eagerness to source local, sustainable food that is produced in harmony with nature and provides a living wage to farmers.
The Growing Together activist group, which is supported by Friends of the Earth, have been busy creating opportunities for people to learn more about food sovereignty in Ireland and how we can promote and engage with it. Here's a quick round up of what the team have been up to over the past few months. Sign up here if you'd like to get involved!
Issued in the blog on June 02, 2020 at 15:33:00.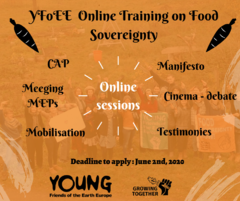 From Friday June 5th, Friends of the Earth organisations from across Europe we will be running an exciting series of food sovereignty workshops, trainings & online events for young people (under 30).
We have fantastic line up of speakers, facilitators and activists AND the opportunity to meet with MEPs so young people can promote their demands on agriculture and food sovereignty at European level. The training will take the form of a series of online webinars.
 Schedule of the Food Sovereignty training:
Issued in the blog on May 17, 2020 at 11:06:00.
Ireland needs the agriculture sector to make a real contribution to emissions reduction if we are going to do anything like our fair share to contain climate breakdown and fulfil the Paris Agreement.
But how much? And how? This debate can be fraught with confusing scientific information and no little spinning. Well, we're here to try and untangle it for you.
Watch our recent webinar on What Contribution can Agriculture make to Climate Action where were joined by our policy expert Sadhbh O'Neill to explain what's going on, along with Oonagh Duggan of BirdWatch Ireland and Ailbhe Gerrard of Brookfield Farm.