Join Our Agri-Activist Team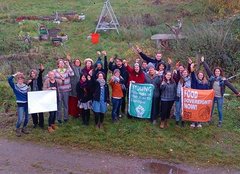 Growing Together is a cross European project which aims to provides a voice for young people, particularly those from rural areas, to engage with crucial debates on the future of food production, and the wider debates on the future of Europe.
The aim of the project is to support young activists and farmers to build skills and take action on issues relating to food and agriculture.
The project offers trainings and skill-building opportunities and provides supports to young people who wish to plan, organisie and facilitates events, workshops, film screenings, information stalls, actions, etc.
If you are between 18 and 30 years old and you are interested in getting involved in this project or attending any of the trainings register your interest in the form below. No previous knowledge or experience is necessary.