Issued in the blog on May 12, 2020 at 11:08:00.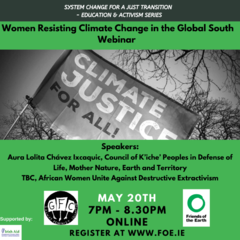 Join this webinar co-organised by the Galway Feminist Collective and Friends of the Earth Ireland to discuss these issues, on Wednesday May 20th at 7pm Irish time/1pm CST/2pm EST/8pm CET.
As the world grapples with the challenges posed by climate change, there is increasing awareness in the Global North that communities from the Global South will be most impacted by the effects of climate change. We increasingly recognise that those same communities are often on the front line of resistance to extractive projects that threaten the environment and exacerbate the impact of climate change, particularly: mining, mass hydroelectric infrastructure and biofuels. Women across these communities often put their safety, freedom, livelihoods and lives on the line to protect the environment and Mother Earth.
Issued in news on May 11, 2020 at 10:47:00.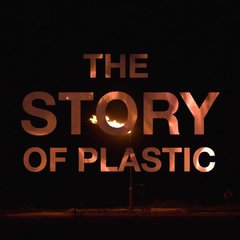 Sick of Plastic Campaign
PRESS RELEASE
For Immediate release: Monday May 11th
Environmentalists come together to bridge the gap between plastic and fossil fuels, unveiling plastic industry secrets, through a free two-day online streaming and webinar.
Environmental campaigning groups have been hosting online screenings across the world to bring the full story of plastic to mainstream audiences since the film premiered on the Discovery Channel on Earth Day this year.
On May 12th and 13th the Sick of Plastic Campaign will be streaming the film for free online for the Irish public. And on May 14th the campaign will host a webinar to discuss the film and explore the links between plastic and fossil fuels within both the Global and Irish contexts.
Issued in the blog on May 08, 2020 at 18:52:00.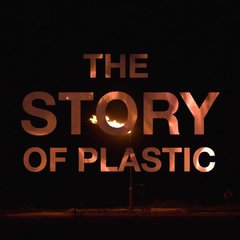 What has that plastic bottle polluting your local river got to do with gas?!
Well, a lot as it turns out.
Natural gas is primarily composed of methane, a greenhouse gas which, when released, has over 100 times the global warming potential of carbon dioxide. Gas is used as an energy source the world over.
What is less well known is that gas is also used as a material to make plastics. Ethane is a hydrocarbon also present in gas and a primary raw material for petrochemical (or plastics) manufacturing. Global fossil fuel extraction companies are heavily involved in the production of plastics. They use the ethane accessed via fracking to produce plastics that exist for hundreds of years in the environment.
Issued in the blog on April 30, 2020 at 08:52:00.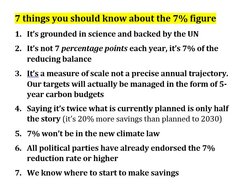 Join this webinar this evening to find out more. The panel includes Prof John Sweenet, Dr Cara Augustenborg and Sadhbh O'Neill. Meantime, here's my 7 things to know about 7%.
1. It's grounded in science and backed by the UN
Every year the United Nations Environment Programme publishes an "emissions gap" report, which analyses the gap between how much countries are planning to cut emissions and what is required to keep global heating to 1.5C, the goal of the Paris Agreement.
Last November the main headline from the UNEP Emissions Gap report was that we need to "cut global emissions by 7.6 percent every year for the next decade to meet 1.5°C Paris target".
Issued in the blog on April 29, 2020 at 16:26:00.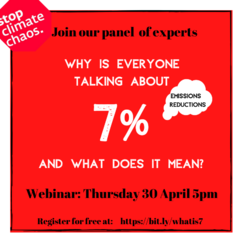 Why is everyone talking about 7% and what does it mean?
Friends of the Earth and Stop Climate Chaos Policy Advisor, Sadhbh O'Neill, will be joined by climate scientist Professor John Sweeney at 5pm tomorrow to help us break down what's going on with Government negotiations and climate action demands.
Things are moving fast in government negotiations and it can be hard to keep up. The news is full of the need of 7% emissions reduction target. But what does that actually mean?
Issued in the blog on April 28, 2020 at 15:13:00.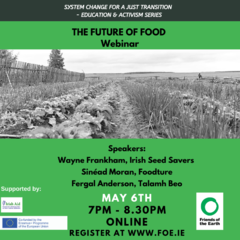 Globally, and within Ireland, there are many injustices built into our food system.Join us for a webinar to discuss these dynamics - and solutions- on Wednesday May 6th at 2pm EST / 7pm GMT / 8pm CET.
We'll be joined by speakers from Irish Seed Savers, Foodture, and Talamh Beo. This will be an engaging session to relate the practical work that organisations are doingaround food in Ireland with global justice issues. 
Corporate Capture of Common Goods
Issued in news on April 27, 2020 at 12:24:00.
Pressure mounting on forming Government to reject plans for imported fracked gas terminals from 130 groups
130 national and international groups have today written to all Irish Party leaders requesting them to remove support for fracked gas infrastructure in Ireland. The letter comes as negotiations for Government intensify and requests an explicit policy statement to be included in the next Programme for Government against the development of all new fossil fuel infrastructure in the form of LNG import terminals that could facilitate the entry of unconventional fracked gas into the Irish energy mix.
Issued in the blog on April 22, 2020 at 12:01:00.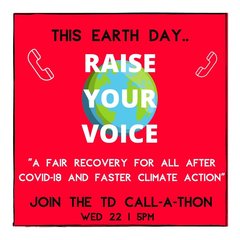 Climate campaigners are taking to the phones for Earth Day today to participate in the online call-a-thon which is supporting people to call their TD's about climate action today between 5-6pm.
Issued in the blog on April 15, 2020 at 18:22:00.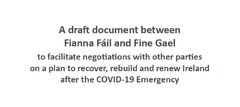 Commenting on the the FG / FF framework document, Oisín Coghlan, Director of Friends of the Earth said:
Issued in the blog on April 15, 2020 at 16:40:00.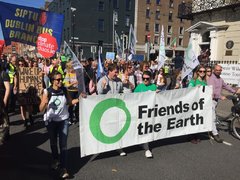 We're Hiring a Communications Officer - Apply Now!

The movement is strong, our team is growing, and we are doing more campaigning and movement building work than ever before.
With the growing demands and the increasing workload, we're in great need of a Communications Officer to work on campaign communications, social media and media relations.
We're looking for someone who shares our vision and passion for environmental and social justice, has an interest in and understanding of the grassroots movement and the political system for taking a bottom up and top down approach to achieving a just and fair world for people and planet.