Issued in the blog on March 25, 2020 at 18:26:00.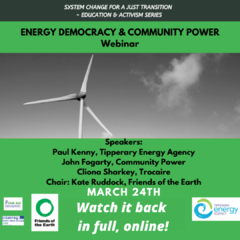 Thank you to our panelists and participants for tuning into our webinar 'Energy Democracy & Community Power' yesterday evening.
Cliona Sharkey, Policy Advisor with Trócaire, Paul Kenny, CEO of Tipperary Energy Agency and John Fogarty of Community Power, Ireland's first community owned electricity supplier joined us for a lively discussion on the question;
How can we build energy democracy in our communities so that everyone has access to community power?
If you missed it, you can watch it back here in the video below.
Join the energy revolution, switch your electricity supplier to Community Power today - click here to make the switch!
For more on Trócaire - click here, and for more on Tipperary Energy Agency - click here.
Issued in the blog on March 19, 2020 at 10:06:00.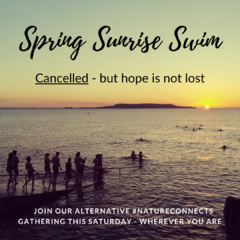 Our Spring Sunrise Swim is cancelled, but hope is not lost.
Weeks ago, the thought of having to cancel our next sea swim crossed our minds. But our concerns then were because of the storms. Nothing could have prepared us for what we are now living. The world seems like a very different place.
Yes, things are very different. Many of us have turned our kitchen tables into our office. We're no longer meeting in rooms together, but through online video calls. We're fortunate we can do this. Many people cannot continue working, and have little way of connecting.
Issued in the blog on March 18, 2020 at 12:32:00.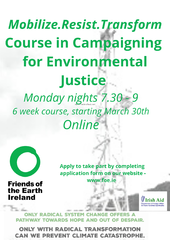 Are you concerned about the climate crisis?

Do you want to explore how climate change connects to other issues of injustice?

Do you have a sense there are root causes resulting in these injustices?

And do you want to learn skills for getting others involved in change-making for real impact?
Then look no further, and apply to take part in Friends of the Earth's 6-week System Change for a Just Transition Online Course,'Mobilize. Resist. Transform.' 

This course aims to offer a space to explore the environmental issues of our time, how they intersect, what some of the root causes are, and some tools and strategies for taking action. We will collectively explore the issues over the course of the 6 sessions, with reading materials provided for each week.
Issued in the blog on March 13, 2020 at 18:11:00.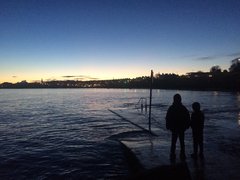 Things are looking very uncertain right now.
COVID-19 seems to be taking over everything; the news, email inboxes, social media, and conversations around the dinner table. It's overwhelming.
I'm sure you have multiple emails coming at you with precautionary information on how to take care and avoid risks. This is a post on how to take care, but not purely because of COVID-19. Because taking care should be considered important all of the time.
The reality is, life is always uncertain. We never know what tomorrow will bring, and we cannot control that. But what we can do is take care of ourselves and look out for each other.
Here's some suggestions on how to stay healthy and strong, during times of increased uncertainty.
Issued in the blog on March 13, 2020 at 09:36:00.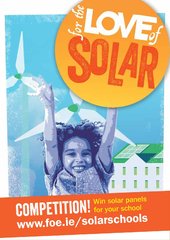 Voting and judging for Solar Schools 2020 is now complete.  The winners were judged by an independent judging panel following the results of an online public vote. 
Schools were tasked with coming up with an idea for a local climate action project.  And as expected, students in Ireland have fantastic ideas.  The winners will now complete their climate action project, and will get solar pv panels designed and installed at their school. 
We are very grateful for financial support for this project from the following organisations.  It would not be possible without them.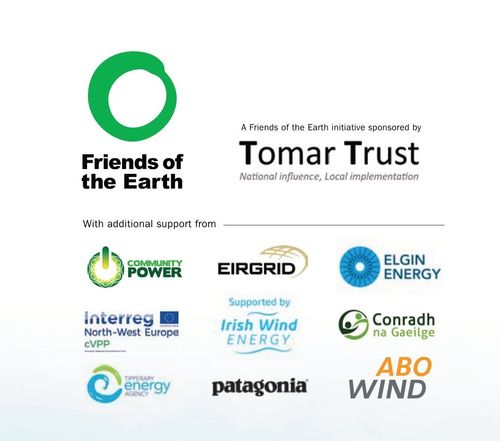 The winners for Solar Schools 2020 are:
Primary Schools
Winners
Guardian Angels, Blackrock, Co Dublin
St Brigids National School Grange, Co Carlow
Scoil Naomh Brid, Co Donegal
Mercy Moyderwell, Tralees, Co Kerry
Issued in the blog on March 10, 2020 at 12:22:00.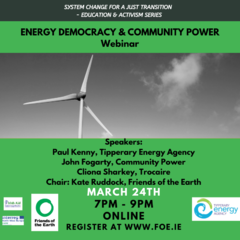 *Those who register will receive an email with a link to join a Zoom webinar, with instructions on how to join. We still have a limited number of places for the webinar so registration is on a first come first served basis.
How can we build energy democracy in our communities so that everyone has access to community power?
Issued in news on March 09, 2020 at 17:34:00.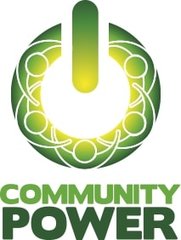 Power for the people  - Renewable Electricity auction now open for community energy

The first auction for the Renewable Electricity Support Scheme (RESS 1) is open for applications from today, Monday 9th March, with the first auction due to take place over the summer. It is the first time community led renewable energy projects will be recognised and supported in Ireland.


Over 3,300 Gwhrs of renewable electricity will be auctioned for all renewable electricity technologies in this auction, which is expected to deliver a 30% increase. Communities are encouraged to develop their own renewable energy projects through the separate community preference category.


Kate Ruddock, deputy director at Friends of the Earth commented,


Issued in the blog on March 06, 2020 at 17:38:00.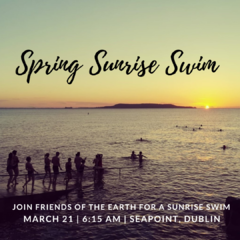 Don't you just love a challenge!
Join our next seasonal gathering on Saturday March 21st at Seapoint in Dublin for sunrise at 6.15am.
This event is free, register at the link to connect with other sunrise sea swimmers!
We began our seasonal sea swims last June, on the summer solstice - and in two weeks time we'll be on our fourth - coming full circle.
Spending time in nature is good for our mental and physical health. And swimming in cold water also builds resilience! At first, the cold water can be a shock - but enduring challenges like this on a regular basis makes us stronger. Each time it gets easier.
Issued in the blog on February 27, 2020 at 11:38:00.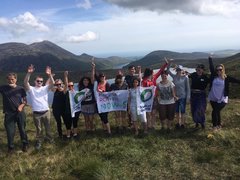 The Growing Together project has been working with a group of youth agri-activists (which includes farmers, horticulturists, students, policy geeks, rural and urban youth from Ireland and beyond) to raise awareness and share skills on regenerative agriculture in Ireland and Europe.
Issued in the blog on February 26, 2020 at 18:39:00.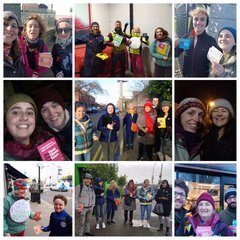 In the run up to the recent General Election, Friends of the Earth supporters pulled together, and reached out, like never before.
Thanks to our strong, and growing community, we raised more money more quickly than we ever have before, putting €25,000 into the pot for climate work during the election.
That fund allowed us to work with our partners in the Stop Climate Chaos Coalition to create the One Future Campaign for Faster and Fairer Climate Action, which included not only long-time allies but more recent ones like the National Women's Coucil and the Union of Students in Ireland. This became the broadest civil society push for more political and government climate action than ever before.