Issued in the blog on October 18, 2019 at 15:29:00.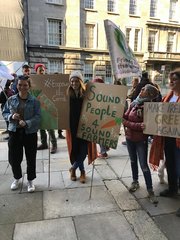 Supporting the launch of Talamh Beo!
In support of the growing community of sustainable growers and farmers in Ireland, Friends of the Earth joined the launch of Talamh Beo, a new grassroots organisation of farmers, growers and land based workers, launched outside the Department of Agriculture where they presented an oak tree to Minister Creed.
In preparation for the launch action Friends of the Earth hosted two film screening and banner painting sessions to encourage citizens to stand with small sustainable farmers and call on the government to support the vision of Talamh Beo - a living landscape where people and ecosystems can thrive together.
Check out Foodture and Talamh Beo to find out more on how to support your local, small, sustainable farmers in Ireland!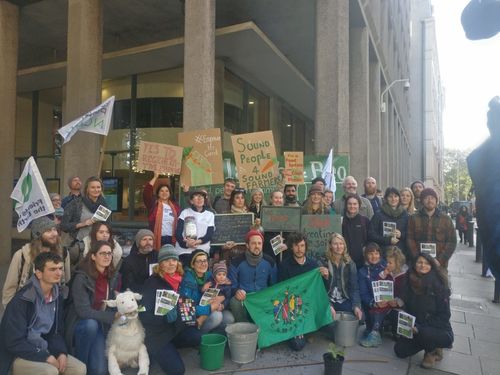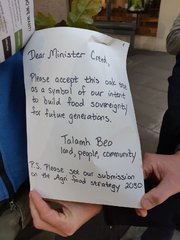 Issued in the blog on October 15, 2019 at 14:04:00.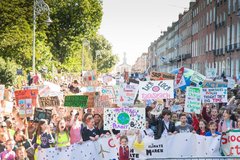 Between the 20th and 27th of September 7.6 million people globally took to the streets to demand climate justice as part of the Climate Strike.
In Ireland, 50,000 people took part across every corner of the island.
Thanks to those of you that donated to our Climate Strike Fund we create a resource pack of stickers, social media graphics, posters and more. We recruited a team of 15 volunteers who worked from our office to support the 60 people across the country organising strike support actions. And we were able to fund equipment on the day including the stage which was fully solar powered!
Issued in news on October 08, 2019 at 18:04:00.

Carbon tax rise welcome, but one small piece of the jigsaw
Ringfencing must be put into law, and should be all carbon tax revenue not just the increase
Rate increases to 2030 must be guaranteed by legislation
Delay to application on home heating fuels welcome, due to lack of preparation to protect those vulnerable to the change
Minister must now sit down with SVP and other groups to figure out how best to protect those most affected and enable them to reduce their dependence on fossil fuels.
10% increase in Fuel Allowance welcome - should be rebranded as Carbon Tax Cashback in 2020
Appointment of a Just Transition Commissioner welcome but ...
Issued in news on October 08, 2019 at 10:17:00.

5 tests for Budget's climate credibility
Friends of the Earth has warned that unless today's Budget tackles energy poverty and kickstarts a Just Transition for peat workers, the reported plans for a small increase in the carbon tax risk alienating people while doing little to reduce emissions.
Commenting on media reports that the Budget will raise the carbon tax from €20 to €26 a tonne, Friends of the Earth Director, Oisín Coghlan commented:
"A rise of €6 in the carbon tax is not enough to reduce emissions on its own. Key to the Budget's climate credibility therefore is how the Government plans to spend the revenue and how clear its commitment to future increases is."
The environmental justice organization has set out 5 tests for Budget 2020:
Issued in the blog on October 07, 2019 at 18:39:00.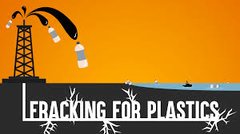 Last week 4,500 people took the email action to tell our politicians that we don't want to import fracked gas!
Public pressure is working! On Friday we got the debate in the Dail, and now Government must undertake a review of Irish energy security before any further support for the Shannon LNG project can proceed.
We need to keep the pressure on, to make sure the review is independent and Paris Aligned. This fight is only beginning.
If you haven't yet signed our petition to Stop Shannon LNG (the terminal planned to import gas) please take action now and share it widely with your friends.
Issued in news on October 04, 2019 at 17:15:00.

Friends of the Earth sets out three failures and three tests on carbon tax
Friends of the Earth has warned that reported plans for a small increase carbon tax in Tuesday's Budget risk being ineffective or even counterproductive.

Commenting on media reporting that a planned increase in the carbon tax of between €5 and €7 euro a tonne, about a 2c increase in a litre of petrol, has been agreed between Fianna Fáil and Fine Gael, Friends of the Earth Director, Oisín Coghlan said:
Issued in the blog on October 04, 2019 at 15:05:00.
We put everything into the campaign to fight against the LNG fracked gas terminals this week.  And so did our supporters!.Thank you! 
Issued in the blog on October 03, 2019 at 17:14:00.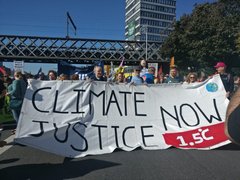 Busy time in the Coalition kicked off again in September as the new Dáil session began, and as thousands of young people across Ireland came together to mobilise as part of the youth-led Global Climate Strike on September 20th, members of Government, including the Taoiseach, travelled to New York to attend the high-level UN Summit on Climate Change in New York.
'Preventing irreversible climate disruption is the race of our lives and for our lives' were the words used by the UN Secretary-General in calling on all leaders to come to New York with statements on how they intend to increase ambition on climate action in advance of next year when the Paris Agreement will come into force.
Issued in news on October 03, 2019 at 14:48:00.
For Immediate Release

NGO's both sides of the Pond Call on Government to Stop the Shannon fracked gas terminal
Celebrites Mark Ruffalo and Michael Moore join the plea

50 environmental, climate, medical and justice organsiations from both North America and Ireland have written to An Taoiseach today requesting that Ireland does not propose support for the Shannon LNG fracked gas terminal at the European Commission meeting on Friday October 4th. The letter is also co-signed by actors Mark Ruffalo and Michael Moore which calls on Ireland not to create futher demand for fracked gas from American communities.

"Taoiseach Leo Varadkar must learn that climate leaders don't support fracking," said longtime anti-fracking advocate and actor Mark Ruffalo. "If he allows for the approval of this dangerous Shannon LNG fracked gas import facility and other infrastructure at Friday's EU meeting concerning Projects of Common Interest, he will be both silencing the voice of democracy in Ireland and supporting fracking in America for decades to come."

The letter states that 'Liquefied Natural Gas (LNG) is disastrous for climate change, dangerous, and relies on fracking in the U.S. that harms people and the environment'

Health professionals and scientists in the United States have been documenting the public health harms of fracking and related infrastructure for years now. The vast majority of more than 1,500 peer-reviewed scientific studies demonstrate that drilling, fracking, and infrastructure including LNG are dangerous and harmful. In recent months, a renowned newspaper in Pennsylvania, the Pittsburgh Post-Gazette, has investigated and found least 67 diagnoses of extremely rare cancers in children in just 4 rural, heavily-fracked counties of the state.

Julia Walsh Campaign Director of Frack Action said "Ireland rightly banned fracking 2 years ago based on damage this it inflicts on the environment and public health. I've come here to speak for those of us in the United States fighting for a national ban on fracking and to represent the communities who have been devastated by it. We are asking the Taoiseach and the Irish government not to import US fracked gas, which will lock us into fracking and it's impacts to public health and the climate,"

Kate Ruddock Deputy Director Friends of the Earth welcomed the debate in the Dáil today on this important issue, and commended the TD's who expressed their opposition to this project. However, Kate expressed disappointment that a vote was not called on whether or not this project should recieve state support.

It is expected that Minister Bruton will propose the Shannon LNG fracked gas terminal and the reversal of the Moffit interconnector will be included on the Projects of Common Interest list tomorrow, and will thus become one of Ireland's highest priorty projects with access to special planning permissions, permits and grant support.
Issued in the blog on October 03, 2019 at 11:25:00.
99% of the gas that would be imported to a planned termnial on the Shannon would be fracked in the USA. The Dáil is currently debating whether the project should get special EU treatment and subsidies. Here's what TDs need to know. (To download a pdf briefing click here.)
The Irish Government are planning to go to Brussels tomorrow to table support with the European Commission for a Fracking Gas Terminal in Shannon 'Shannon LNG' and the reversal of the flow in the existing gas pipe that connects us wiht Scotland, so that we could become exporters of fracked gas across Europe.