I'm sick of plastic and I want to see action
Petition Text
I want to see:
> A deposit and return scheme for plastic & glass bottles and cans.
> A tax on take-away cups & containers, to encourage reusable options.
> A ban on single-use plastic items like straws and cutlery.
> Supermarkets reduce the amount of plastic packaging they use.
> Supermarkets to offer more loose produce at competitive prices.
> Commercial entities to move towards reusable options rather than switching to compostable items, which are still single-use.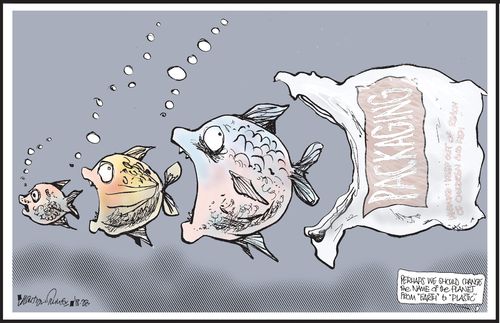 Why This? Why Now?
We are all sick of plastic. 
Everyday in Ireland we use more than 500,000 plastic-lined coffee cups that can't be recycled, more than 2 million plastic bottles that don't get recycled, and supermarkets foist more and more packaging on us. Meanwhile, micro-plastics are making the fish we eat sick, and if we keep going the way we are, plastic waste will outweigh fish in the oceans by 2050.
But there are solutions.
We must press the Government to adopt an ambitious Single-Use Plastic plan that embraces the circular economy.
Such measures must include the following:
A Deposit Refund Scheme which would place a deposit on all plastic and glass drinks bottles as well as cans, which would be refunded when you bring the container back for recycling. In countries where they have a scheme like this recycling rates are as high as 98%. We had a deposit and refund scheme for glass bottles in the past. It's time to do it again.

*We know producers and retailers are lobbying hard

against

a deposit and return scheme because they say it would be inconvenient or too expensive. Independent research shows the scheme would cost about 1c per bottle. We need to show that people really want to see action on plastic and don't want supermarkets and big business dragging their heels.
Introduce a 'latte levy' on all single-use coffee cups and take-away containers to encourage reuse.

*Your average coffee cup has an inner plastic lining, and therefore cannot be recycled. Many cafés have joined the Conscious Cup Campaign and offer customers a discount, double loyalty points, or like coffeeangel do, make a donation to Friends of the Earth every time someone brings a reusable cup.

Enforce a ban on the most problematic single-use plastic items such as straws, stirrers, cutlery, plates and cups.

Move away from compostable options as this still supports a throw-away culture.

Encourage and reward the use of reusable items. There is a better way than throw away.
What Irish supermarkets can do
Offer more items without packaging, such as fruit and vegetables (without plastic trays, wrapping and nets) at competitve prices

Make their own-brand packaging easily reusable, compostable or recyclable, and use less plastic

Demand, through their purchasing power, that other brands they carry have easily reusable, compostable or recyclable packaging, and use less plastic

Blaze a trail in Ireland by implementing a plastic free aisle, as has been done in the Netherlands

Provide items in bulk, where possible, to reduce packaging

Allow shoppers use their own containers to buy dried goods, deli items, salads, fish etc - buying only what they need
Sick of Plastic is a national campaign in partnership with VOICE Ireland.